Home > Services > Invisalign
Eagle Run West Dental Group's expert doctors provide Invisalign services in Omaha, NE. We want to help our patients achieve the smiles they dream of.
If you've always wanted to straighten your teeth but don't want the hassle or appearance of braces as an adult, Invisalign might be the right option for you.
What is Invisalign?
Invisalign's® invisible, removable, and comfortable aligners will give you the beautiful straight teeth you've always wanted. And best of all, no one can tell you're wearing them. As one of our more popular dental services in Omaha, Invisalign is great for adults and teenagers.
Benefits of Invisalign®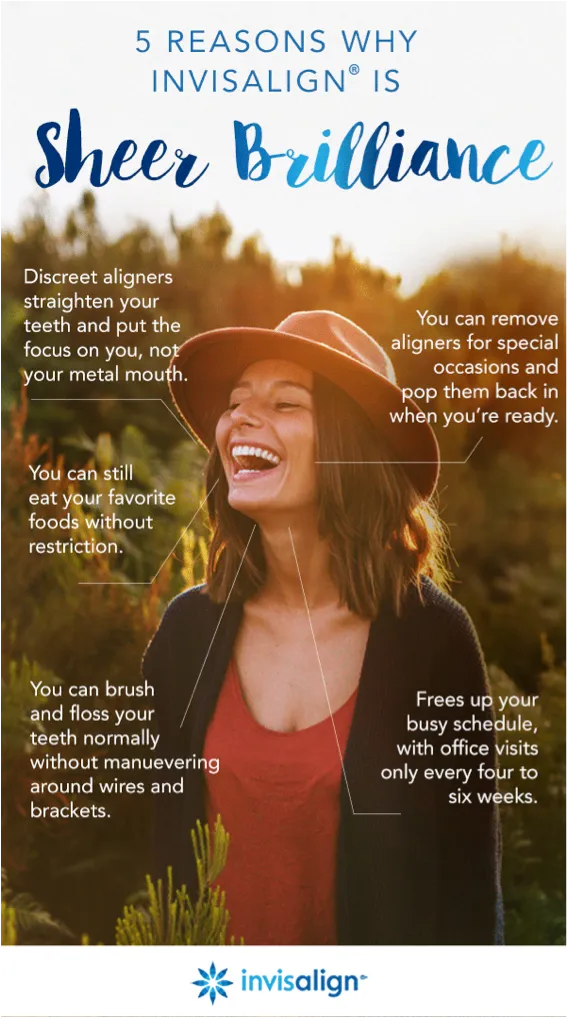 Invisalign gives you a whole new way to wear braces for a "clearly" amazing smile!
Invisalign aligners are a perfect fit for your lifestyle, because aligners are:
Clear
Removable
Super comfortable
Customized just for you
Unlike traditional metal braces, your Invisalign aligners are removable, which means you can go ahead and eat all the things you love without worrying about breaking a bracket or losing a rubber band.
It's your life, keep it that way!
Invisalign aligners are really comfortable and very durable. They fit in with any of life's activities.

How Much Does Invisalign Cost?
There are many factors that determine the cost of your Invisalign treatment: how extensive the issues you want to be corrected, how long your treatment plan will last, and the specific treatment details prescribed by the doctor.
We strive to make Invisalign affordable to everyone. You can get a beautiful, healthy, and straight smile for payments as low as your monthly cell phone bill.
Invisalign Payment Options
No Interest payment plans for 6-12 months or extended payment plans with low APRs with Lending USA, Lending Club, and Care Credit
Various payment arrangements to coincide with your Flex Plan needs
Visa, MasterCard, Discover, and American Express cards accepted
Insurance. If your dental plan covers orthodontic treatment, you may also qualify for Invisalign. Talk to your insurance provider to determine the extent of coverage for your treatment. For example, is there an age limit? What is the lifetime orthodontia maximum?
You are your best investment.
It's true. No matter what you've believed in the past, a confident, radiant smile can be within reach. And if you think about it, improving your smile is an important investment, because you're doing it for yourself.
To schedule a consultation to determine if Invisalign is right for you, contact us today.
Invisalign® FAQ

The Invisalign system is a series of clear aligners used to straighten teeth.
Will Invisalign fit my lifestyle?

A lot of our dental patients in Omaha wonder if Invisalign will fit their adult lifestyle. The short answer is yes! It's much easier to straighten your teeth using Invisalign than it is with braces.
Here's how easy it is for Invisalign to adapt to your lifestyle: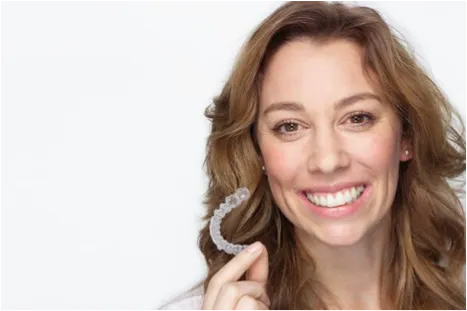 Take out your aligners to eat or drink whenever you want.
Since Invisalign is virtually invisible, chances are no one will even notice anything is different, until your new smile is revealed, of course.
You can remove your Invisalign aligners, so you can brush and floss regularly and keep your teeth and gums healthy.
You can occasionally remove your Invisalign aligners and enjoy a special night out.
With Invisalign, it's easy to make your smile picture-perfect for that special occasion.
Invisalign appointments work with your schedule. Most visits are in and out, with a quick progress check once every six weeks.
How Does Invisalign® Work?
You wear each set of aligners for about 2 weeks, removing them only to eat, drink, brush, and floss.
As you replace each aligner with the next in the series, your teeth will move little by little, week by week, until they have straightened to their final position.
You'll visit us about once every 6 weeks to ensure that your treatment is progressing as planned.
Total treatment time averages 9 - 15 months and the average number of aligners during treatment is between 18 - 30, but both will vary from case to case.

The Invisalign system is the virtually invisible way to straighten your teeth and achieve the smile you've always wanted.
Using advanced 3-D computer imaging technology, Invisalign depicts your complete treatment plan, from the initial position of your teeth to the final desired position.
Then a series of clear aligners are custom made for your teeth - and your teeth only - to move them little by little.
Each aligner is worn for about two weeks before being replaced by the next in the series until the final position of your teeth is achieved. Your Invisalign treatment time will be determined by your doctor based on your specific needs.

What are the primary benefits of Invisalign?
Invisalign aligners are clear; no one may even notice that you're wearing braces, making Invisalign a seamless fit with your lifestyle and day-to-day interactions with others.
Invisalign is removable. Unlike braces, you have the flexibility to eat and drink what you want during treatment simply by removing the aligners when you eat. You can also remove the aligners to brush and floss as you normally would for fresh breath and good oral hygiene.
Unlike traditional metal braces, Invisalign does not use metal brackets or wires that could cause irritation to your mouth. In addition, you'll spend less time in the doctor's chair and having to schedule appointments, and more time out doing the things you love.
Lastly, Invisalign allows you to view your virtual results and treatment plan before you start your treatment, so that you can preview how your straight teeth will look once your treatment is complete.
Can I Get Invisalign Without a Dentist?
While Invisalign is a much easier teeth straightening alternative to braces, you'll still need to regularly see a dentist so they can fit your new aligners and make sure your teeth and jaw are being properly aligned.

Does Invisalign Hurt?
While you will feel some discomfort with Invisalign, it's much less painful than traditional braces. Braces can be painful in multiple ways, as they're shifting your teeth and because the wires and metal brackets can rub against the inside of your mouth.
With Invisalign, you won't have to worry about metal poking the inside of your mouth. You'll feel the sorest after replacing your aligners with new ones, as they'll fit a bit differently than the aligner you were wearing before. This will usually only last for a few days. After that, you'll barely notice you're wearing it!
How many patients are being treated with Invisalign?
More than 1,000,000 patients worldwide have been treated with Invisalign. The number of Invisalign smiles grows daily. At your next appointment, we can help answer any questions you might have, and get you started on the smile you've always wanted.
If you are looking to have a straighter smile without the use of traditional metal braces, Invisalign may be for you! Visit Eagle Run West Dental Group at our Omaha, NE office or call us at (402)-498-8804!