Eagle Run West Dental Group is equipped to handle all your dental needs. To help you understand your options, we've included descriptions of some of our leading services on this page. All photos are real patients of Eagle Run West Dental.
Drs. Sharlene and Robert Wilson have each been dedicated in practice since 1982 and 1984 respectively.
With over 50 years of combined experience, they are experts in the full range of dentistry for all ages, including children, making our office a one-stop visit for all your dental needs. This includes routine cleanings and examinations, oral cancer screenings, fillings, crowns, bridges, partials, dentures, gum disease therapy, root canals, TMJ, cosmetic dentistry, whitening, and orthodontics. In order to provide the most comfortable and caring experience, we have the latest technology including digital x-rays, laser dentistry, intra-oral cameras, and XM Satellite radio. Enjoy all of this while surrounded by golf course views in a warm and welcome setting.
General Dentistry in Omaha
We offer general dentistry services in Omaha, including:

Oral Cancer Screenings - to detect disease at a curable stag
Periodontal (Gum) Disease Therapy - to prevent tooth loss
Professional Teeth Cleanings - to maintain good oral health
Root Canal Treatment - to save an infected tooth
Teeth Whitening - to brighten a faded or discolored smile
TMJ/TMD Treatment - for chronic jaw pain
Tooth Extractions - when a tooth is hopelessly damaged or decayed
Family Dentistry in Omaha
Our expert doctors provide dental treatment to all ages, from toddlers to seniors. With Eagle Run West Dental Group, you don't need to worry about making separate appointments for you and your child!
Our family dentisty services in Omaha include:

Orthodontic Treatment - to move teeth into the right position
Sealants - to protect children's teeth from decay
Cosmetic Dentistry in Omaha
Our doctors are experts at simple cosmetic procedures as well as full mouth reconstruction, including any combination of fillings, bonding, veneers, crowns, bridges, implants, and whitening. All fillings are done with tooth colored composite-resin material — no metal here!
Veneers, crowns, and bridges are made of porcelain by a highly-specialized lab trained in making a product that looks identical to your natural teeth.
If you have any questions about what we can do for your smile, please schedule a consultation and the doctors will create a custom treatment plan based on your dental and financial needs.
Cosmetic Tooth Bonding - to repair small chips or cracks
Crowns & Bridgework - to replace large amounts of lost tooth structure and/or missing teeth
Dental Implants - the longest-lasting tooth replacement available today
Digital X-rays - compared to traditional x-rays, digital x-rays are safer for patients and provide higher-resolution images for your dentist to examine
Fillings - our fillings make your teeth strong and healthy again
Invisalign - our Invisalign services in Omaha are a solution to getting a straighter smile without traditional metal braces
Porcelain Veneers - for repairing larger chips and cracks, and reshaping teeth
Teeth Whitening - to brighten a faded or discolored smile
Removable Dentures - to help you smile again
Before and After Cosmetic Dentistry Services
Tooth-Colored Fillings - Before & After
Tray Whitening, Bonding, and Cosmetic Contouring - Before & After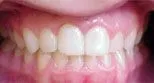 Britesmile® Whitening and Veneers - Before & After
Crowns/Full Mouth Reconstruction - Before & After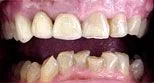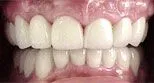 Emergency Dental Treatment
If you have a life-threatening or severe injury, call 911 or go directly to the nearest hospital emergency room. We can treat a variety of traumatic dental injuries, including teeth that have been chipped, moved, or knocked out entirely. Please call our office for assistance.

Endodontics (Root Canal Therapy)
Root canal therapy is necessary when a tooth is infected and will not heal on its own.
Symptoms include pain when biting and chewing, sensitivity with hot and cold, and constant aching and discomfort. A lot of people are intimidated when they hear the word "root canal", but at our office, there is no need to be afraid.
Dr. Bob and Dr. Shar have both been performing this procedure for many years and you will be surprised at how easy and painless it is. Most general dentists will refer you to an Endodontic specialist, and in some complex cases we may need to refer you to an Endodontist too, but the majority of the time we can take care of this problem for you. This will save you time, extra doctor's visits, and usually even a little money!
Periodontics (Gum Disease)
Gum Disease affects many Americans and is the leading cause of tooth loss in this country.
On your first visit, you will receive a thorough periodontal examination. If you have periodontal disease, our hygienists are able to treat you over a couple of appointments. It may be in the very early stages (gingivitis) or it may be more advanced. Regardless, we will work with you to restore your gum health and prevent any further damage. In addition, we will consistently monitor you to make sure everything looks good at regular check-ups.
TMJ Therapy
TMJ is the abbreviation for Temporomandibular Joint. This joint allows you to move your mouth and jaw. The muscles and nerves around this joint can become irritated and swollen causing symptoms of clicking, popping, pain or difficulty when opening and closing your mouth, headaches, and severe facial pain. There are various reasons why this occurs, but if you think you have a problem with your jaw we have several ways to treat this condition. We can diagnose your individual symptoms and then prescribe the most effective treatment.
Dentures/Partials
Dentures and partials are removable replacements for missing and extracted teeth that closely resemble natural teeth and gums. We understand the emotional effect of the appearance of your smile, especially when you have teeth missing, so going even a day without a denture or partial is very uncomfortable. Whether you need an old appliance replaced, or you need to be fit for your first, we have an excellent lab right here in Omaha that will work with us to get your appliance as quickly as possible, usually within a few days.

Implants
In addition to dentures and partials, an alternative to replace missing teeth are implants. Implants are typically done to replace a single missing tooth, but if you have several missing teeth you may still be a candidate. We coordinate our implants cases with an experienced oral surgeon. The oral surgeon will screw an artificial root into your bone, and after a healing period we will attach a crown to that implant. The results are more permanent, maintain your bone health, and look more realistic.
Implants after an Accident - Before & After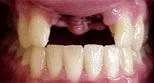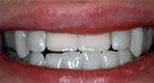 Whitening
There are many ways to whiten teeth, both over the counter and by dental professionals. At Eagle Run West Dental, we offer three levels of whitening:
Orthodontics
Dr. Bob and Dr. Shar used to perform traditional orthodontics (metal braces & brackets) at their rural practices for several years. More recently they decided that Invisalign® was an effective and revolutionary technique that offers an "invisible" alternative to traditional braces.
Our office has become one of the top Invisalign® providers in the Omaha area. This clear alternative to traditional metal braces can be used for both teens and adults. Schedule your consultation to find out if you are a candidate

Invisalign - Before & After