Home > Services > Teeth Whitening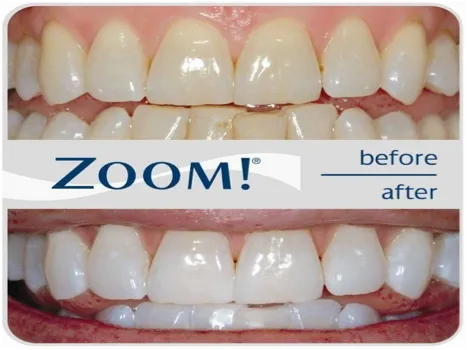 Stained and discolored teeth are, unfortunately, a part of life. If you're looking for a brighter smile, we have a quick, affordable solution. Eagle Run West Dental Group provides teeth whitening services in Omaha to help you achieve a whiter smile in just one dental visit.

What Causes Tooth Discoloration?

There are many causes of tooth discoloration. The most common include aging and consumption of teeth-staining substances such as coffee, tea, colas, tobacco, red wine, etc. During tooth formation, consumption of tetracycline, certain antibiotics, or excessive fluoride may also cause tooth discoloration.
Is It Worth Getting Your Teeth Whitened at the Dentist?
You've probably seen over the counter whitening products at your local drug store that claim to make your teeth whiter. This may seem tempting, however, it's worth visiting your dentist for their professional teeth whitening services. Teeth whitening at a dentist's office is much more professional, effective, and reliable. You'll see long-lasting results with a professional teeth whitening treatment compared to something that's over the counter.
Zoom! QuickPro Teeth Whitening in Omaha
Eagle Run Dental uses Philips Zoom QuickPro whitening, which is a highly effective and affordable in-office teeth whitening treatment. It only takes one visit for a noticeably whiter smile!
Add Teeth Whitening Services to Your Scheduled Visit
Because Zoom QuickPro is a fast treatment, you can add this teeth whitening service to any regular dental appointment. Even after just one treatment, you'll see results after your appointment.
Breakthrough Two-Layer Whitening Technology

Zoom QuickPro uses a breakthrough two-layer technology. Here's how it works:
First, a 20% hydrogen peroxide varnish is applied that whitens your teeth
Then, a sealant layer is applied. This sealant dries in seconds, locking in the varnish.
30 minutes after leaving your appointment either brush or wipe off the whitening varnish, revealing a noticeably whiter smile!
Sensitivity-Free Teeth Whitening
Philips Zoom QuickPro's sealant layer keeps the whitening varnish from getting onto your gums, while the unique formula leads to little to no sensitivity. Not only is QuickPro fast, it's a safe and comfortable experience as well.
Interested in Effective, Affordable Teeth Whitening in Omaha?
If you're looking to brighten your smile, Eagle Run West Dental Group offers teeth whitening services to the Omaha, NE area. Make an appointment or call us at (402)-498-8804!